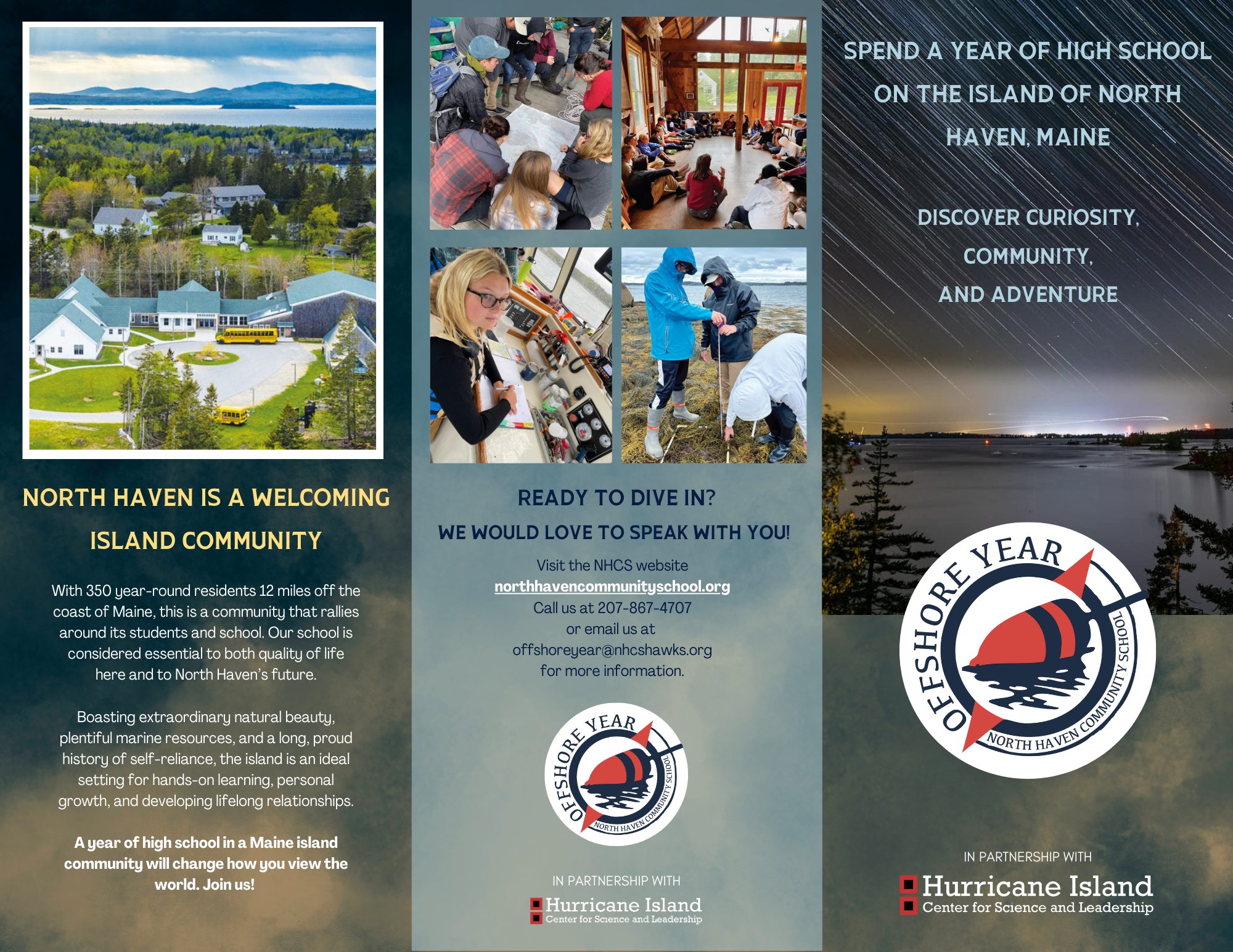 For more information or questions, email us at offshoreyear@nhcshawks.org.
North Haven Community School (NHCS), an accredited New England Association of Schools and Colleges (NEASC) K- 12 public school, is offering students in grades 9-12 an exciting opportunity to become immersed in the unique cultural experiences associated with living and learning on a small island off the coast of Maine.
With support from the Hurricane Island Center for Science and Leadership, Offshore Year magnet students will participate in a variety of field and place-based marine and environmental studies programming, becoming fully-immersed in a community dedicated to aquaculture, commercial fishing, and historical traditions spanning multiple generations.
Offshore students are integrated into the school and community, living in a five-bedroom house in the North Haven village with house parents and supervisory support of the NHCS staff and community members.
The Offshore curriculum uses experiential and project-based methods to teach marine studies, the social and economic impact of climate change on coastal communities, aquaculture, and effective community leadership. The Offshore experience will cultivate confidence, self-reliance, and ignite individual passions. We expect Offshore students to find their voice, take a very active role in their learning, and master the acquisition of specific skills independently.
In addition to place-based marine and environmental science, Offshore magnet students can also expect extraordinarily small class sizes, individualized support, a variety of personalized extracurricular and elective offerings, and community-based extended learning opportunities. All invited students will receive full academic credit for successful completion of their courses.
Students will also gain hands-on experiences in our state-of-the-art projects building that includes a variety of digital and manual tools to build boats, design electronic sensors. Students will apply those skills to larger school projects, during community service, and through internships in the community.
To apply as an Offshore Year magnet student, see the following application checklist.
Our School and Community
With small classes led by passionate educators, students at our school can truly create and receive a personalized and individualized education. NHCS teachers encourage students to find their academic passions through coursework, experiential learning, music, art, vocational projects, gardening, and the annual Fall Field Study Expedition.
North Haven is a welcoming community on an offshore Maine island with just 350 year-round residents and a beautiful coastal landscape. North Haven Community School is the smallest K–12 public school in Maine with an enrollment of around 50 students and a student-teacher ratio of approximately 5:1.
NHCS is accredited by the New England Association of Schools and Colleges. We are housed in a state-of-the-art educational environment—built in 2008—supporting individual student's interests and development with ample facilities and resources that include an auxiliary timber-frame "makerspace" for hands-on projects, a science lab, 3D printers, a greenhouse and gardens, an art studio, and a music room. The community also has a modern theater that NHCS uses for plays and performances.
Additional financial and logistical support is also provided for arts integration, project-based learning, community theater, and off-island expeditions. Students and staff also have access to auxiliary classrooms like the North Haven Historical Society.
Our academic focus provides high-quality, place-based, experiential learning for our students in which their education is connected to the real world beyond our school walls. Students at NHCS present their learning to an authentic audience and for a real purpose. As a place rich with fishing and farming, we are able to use marine studies, agricultural education, and various types of sustainability studies—everything from fishing stocks to housing—to make learning locally relevant.
In addition, NHCS uses a deep-dive approach to learning through our all-school Knowledge Fair, expeditions, exchange programs, custom and mentored independent study, and artist-in-residence programs. High school students engage in our community through work-study and community service opportunities at businesses and nonprofits, including working at local boatyards and farms, with island elders, and at our local preschool.